Riverside Lemon Law Attorney
Southern California Law Firm Fights to Protect Consumers' Rights
California lemon law protects Riverside vehicle owners. The law allows owners to hold manufacturers accountable when a vehicle's defects make it unreliable or dangerous. Although you don't have to hire a lawyer to bring a lemon law claim, doing so is wise. Your attorney can help you navigate the courts and gather the evidence needed to prove your case. Talk to the experienced Riverside lemon lawyers at Wirtz Law to learn more.
The Lemon Law Problem in Riverside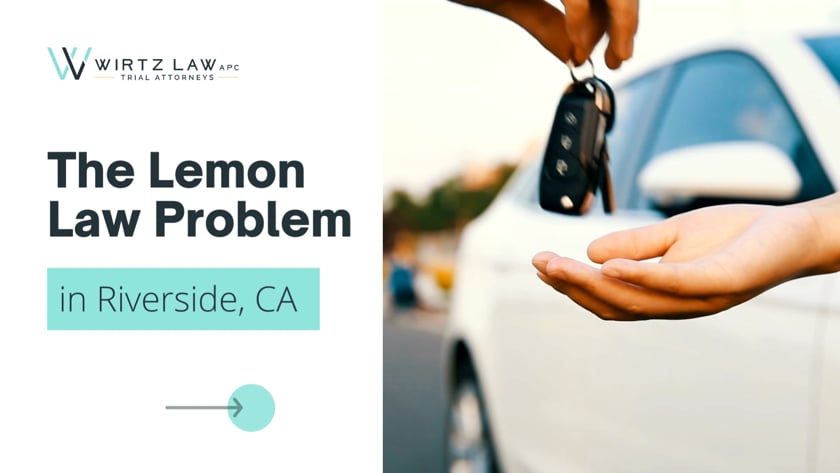 Thousands of Riverside families rely on their cars. Your vehicle takes you to work, school, errands, social activities, and necessary appointments. A day trip to the beach or a road trip through the mountains offers scenic getaways - and you rely on your vehicle to make them happen.
When you buy a new car, you expect reliability. Those expectations are dashed when a car needs constant repairs or has a dangerous defect. Instead, you face the stress of continuous uncertainty. Will your vehicle work today? Or will it break down and disrupt your busy life once again?
Do Some Manufacturers Have More Lemon Law Claims?
While any vehicle can be a lemon, some manufacturers produce more lemons than others.
A study of California lemon law claims by the Public Interest Research Group (PIRG) found that some automakers face lemon law claims more often than others. The five most common vehicle manufacturers named in California lemon law cases include:
PIRG found that General Motors topped the list, with one lemon law case per every 78 vehicles sold. General Motors also faced the most lemon law filings. Between 2018 and 2021, 29 percent of all California lemon law claims focused on General Motors vehicles.
Other automakers had much lower lemon law claim rates. Toyota Motor Sales, for example, saw only one lemon law case per 2,029 vehicles sold - a lemon rate of 0.04 percent.
All of the top five had a lemon rate greater than 0.5 percent. For every 200 vehicles sold, these five manufacturers faced more than one lemon law claim. Together, these five automakers accounted for over half of all lemon cases filed between 2018 and 2021.
How Do I Know if My Vehicle is a Lemon?
California lemon law applies only to specific vehicles and only under certain conditions. A fixed minor problem won't qualify a car or its owner for lemon law protection. Requirements for bringing a claim include:
The vehicle must be purchased or leased at retail in California, such as through a dealership, and the owner must be a private individual or a small business to which the lemon law applies.
The defects must occur during the original manufacturer's warranty or a certified pre-owned (CPO) warranty.
The defect or defects must substantially impair the use, value, or safety, of the vehicle.
The manufacturer must have made a "reasonable" number of attempts to fix the problem, but has not been able to keep the car free from defects.
California lemon law is more likely to cover a defect when:
The manufacturer's warranty applies to the defect;
The defect "substantially impairs" the use, value, or safety of the vehicle; and
The defect or defects were not repaired within a reasonable number of attempts during the warranty.
Owners who buy a vehicle with no warranty cannot bring a lemon law claim. These vehicles are purchased "as is," which means the buyer takes responsibility for the vehicle's condition - even if it has problems they didn't spot when they bought it.
Breaking Down Claim Requirements
Leased vehicles, however, are covered by California lemon law.  You do not have to still own your vehicle to bring a lemon law claim, as long as you meet other requirements. You are not required to continue to own or lease a defective vehicle.  You are, however, entitled to keep driving a lemon, if safe to do so.
California lemon law only applies when an original manufacturer's or CPO warranty exists. Extended warranties, also known as service contracts, do not qualify a vehicle or its owner for lemon law protection.
Most lemon law plaintiffs are individuals who bought their vehicles for personal use. California's lemon law also applies to certain small businesses. A small business with five or fewer vehicles may bring a lemon law claim if the car is under warranty and weighs less than 10,000 pounds empty.
Consumers' Rights Under California Lemon Law
If the manufacturer or dealership can't fix your vehicle after a reasonable number of attempts, California lemon law requires the manufacturer to replace the car or give you a refund. This refund is known as a "buyback." The buyback amount is calculated using a formula provided in the state's lemon law.
After months of dealing with the stress of an unsafe or unusable vehicle, you may have no desire to drive a similar car again - even if the replacement is defect-free. Recognizing this, California law allows vehicle owners to choose whether to receive a replacement or a buyback refund. The choice of a refund or replacement is completely yours. The automaker cannot force you to pick one or the other.
Many lemon law claims are settled out of court, with or without the help of a lawyer. If an auto manufacturer continues to refuse responsibility, a trial may be your best or only option.
California's lemon law protects vehicle owners when their newly purchased or leased vehicle has a dangerous or persistent defect. Lemon car owners may seek a replacement vehicle, a refund, and other compensation for their losses.
What Can I Recover in a Lemon Law Claim?
If a California court finds the automaker liable under California's lemon law, the court may order the automaker to pay you a buyback amount. The court may also order the automaker to pay:
Incidental & Consequential Damages

These damages restore any money you paid because of the vehicle problems. For example, if you had to buy a bus pass to get to work because your vehicle was in the shop for an entire month, these damages may include the cost of that bus pass.

Civil Penalties

A civil penalty is additional damages paid to you up to two time the amount of your actual damages. You may be entitled to civil penalties if you prove that the automaker was willful in its failure to buyback or replace your vehicle under the lemon law. A civil penalty is designed to punish the automaker for its willful failure to follow the law and discourage it from failing to comply in the future.

Attorneys Fees & Costs

If you win your lemon law case, California law requires the automaker to pay your attorney's fees for you.
Payment for your Riverside lemon lawyer is a separate amount from your buyback and other damages. No matter how much time and effort is spent to pursue your lemon law rights, the automaker must pay those attorney fees, costs, and expenses, when you successfully resolve your claim.
Riverside lemon lawyers work on a contingency fee basis. They receive their pay from successful claims against auto companies. If you lose your case, the attorney does not get paid and you owe nothing.  This arrangement challenges lemon law attorneys to be honest about your chances of winning your case and to fight to ensure your claim succeeds.
California law does allow vehicle owners to bring their lemon law claims without a lawyer's help. Taking this path, however, can be treacherous. While vehicle owners can represent themselves in court, the court will expect them to know and follow all the rules and procedures of a court case, just like an attorney would. Court staff cannot explain how to fill out paperwork. Court staff cannot provide legal advice.
When a vehicle owner raises a lemon law issue, auto manufacturers often press to settle the matter in arbitration. Arbitration is a less formal proceeding than a courtroom trial, but the arbitrator's decision is as binding as a court verdict.
Arbitration can be a helpful tool for settling some legal claims. Lemon law arbitration, however, is often biased in the automakers' favor. Even if you have a clear case under California lemon law, an arbitrator can find a way to rule against you - depriving you of the compensation and justice you deserve. Experienced Riverside lemon law attorneys rarely, if ever, recommend that their clients go through this arbitration process.
Wirtz Law has successfully obtained recoveries for our clients in excess of $45 million.
$632,141.03
Our client, the plaintiff, purchased a brand new 2014 Focus for $40,007, including add-ons and financing. Within three days, the transmission began to slip and…
Riverside Lemon Law Frequently Asked Questions
From the moment I contacted them, Jessica was responsive, informative, and made us feel heard. They were able to navigate the complicated legal process with ease and fought for our rights as a consumer. Ultimately, their diligence and expertise…
‐ Jack D-L-T.
Contact an Experienced Riverside Lemon Law Attorney To Discuss Next Steps
If you suspect your vehicle is a lemon, don't wait: Contact an experienced Riverside lemon lawyer today. At Wirtz Law APC, our legal team has helped many vehicle owners get the compensation and peace of mind they deserve. Contact us today for a free and confidential consultation.
If you are fed up, have had enough, and think your car is a lemon, call us at (858) 879-3557 for a free evaluation. If your vehicle is a lemon, we will take your case at no charge to you on a contingency fee basis. Wirtz Law APC provides one of the best Lemon Law attorney services everywhere in California, including Southern California, Northern California, Central California, and Eastern California.