Los Angeles Lemon Law Attorneys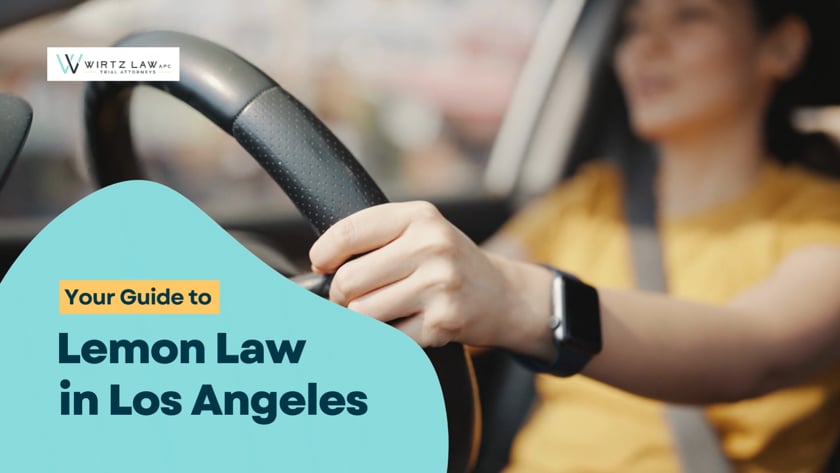 Los Angeles County was home to over 7.6 million registered vehicles in 2021. Many of these vehicles belong to families and businesses within Los Angeles itself, and much more travel daily through Los Angeles to get to work.
In heavy Los Angeles traffic, a safe, reliable vehicle is essential. Vehicle breakdowns and dangerous defects can quickly turn into significant problems. Los Angeles residents may choose to buy or lease new vehicles each year. As consumers, they expect an car, truck, EV, or SUV to operate safely and reliably for their everyday use. However, when a vehicle turns out to be a lemon, these expectations are replaced by frustration, stress, and unacceptable risk. If you suspect your vehicle is a lemon, talk to an experienced Los Angeles lemon lawyer today. The team at Wirtz Law APC is here to answer your questions about your vehicle and help guide you on the next steps.
The Consumer Reports rated several automaker vehicles poorly when it came to reliability. They include:
2022 Ford Explorer: Consumer Reports rated its reliability 8/100.
2022 Ford Mustang: Consumer Reports rated its reliability 9/100.
2022 Volkswagen Tiguan: Consumer Reports rated its reliability 17/100.
2022 Chrysler Pacifica: Consumer Reports rated its reliability 18/100.
Not all unreliable vehicles are lemons. To meet the lemon law standard set by California lemon law, a vehicle's unreliability must persist despite at least two attempts to fix the problem. The vehicle must also meet other legal requirements.
How Do I Know If My Vehicle is a Lemon?
California lemon law applies to vehicles when:
A consumer purchased the vehicle new or certified pre-owned (CPO) from a manufacturer or dealership.
An original manufacturer's or CPO warranty applies to the vehicle and the problem.
A consumer purchased the vehicle for personal use or specific business uses.
The vehicle is a covered type of vehicle.
California lemon law covers nearly all types of passenger vehicles: EVs, SUVs, cars, pickup trucks, vans, and minivans. It also covers the chassis, chassis cab, and drivetrain of a motor home.
California lemon law covers certain trucks used for business purposes. A business may seek protection under lemon law if:
The company owns five or fewer vehicles total; and
The suspected lemon has a gross vehicle weight (GVW) under 10,000 pounds.
Not all Vehicles with Issues are Lemons
Not every vehicle with a problem is a lemon, even if the car is new. If a problem is fixed after a reasonable number or attempts, the vehicle won't qualify as a lemon under California law.  If the problems do not substantially impair the use value or safety of the vehicle, it may not qualify as lemon.
A vehicle is a lemon if the manufacturer or dealership cannot fix the problem after a reasonable number of attempts, which can be as few as two repair attempts. The repair attempts can be for different defects.  It doesn't have to be the same part that is repeatedly repaired.  As long as each defect substantially impairs the use, value or safety of the vehicle, it may qualify as a lemon.
If a car is a lemon, the owner or lessee is entitled to a replacement vehicle or a refund of the purchase price. The owner may choose whether they want a replacement vehicle or a refund. A refund can also cover expenses such as taxes, financing, registration fees, and out-of-pocket expenses for related repairs. Importantly, the manufacturer pays your attorney fees and costs and expenses when you get a refund or a replacement.
If You Think You Have a Lemon
An Appropriate Fee Structure

California lemon law allows successful vehicle owners to recover attorney fees and costs and expenses from an automaker. Experienced lemon lawyers often take cases on a contingency basis. When they win, they receive their payment directly from the automaker; if they lose, they do not charge you for their services. Understand how your lemon law attorney will be paid before agreeing to work with them.
Communication

During an initial consultation, don't hesitate to ask questions. Look for a lawyer who answers your questions in a way that helps you understand your legal rights. Your attorney should provide enough information to help you make informed decisions and ensure that you know the legal process for your lemon law claim.

A Willingness to Fight for You

Experienced lemon law attorneys know that most lemon law claims don't go to court – yet they prepare as if every case might go to trial. Look for a lawyer who fights for maximum damages under the California lemon law. Ask how the attorney negotiates settlements and how they decide that a case needs to go to court instead of being settled.
You can also take steps to help your lemon law claim succeed. Collect all the paperwork related to your vehicle and its issues, and keep it in a safe place. However, if you have trouble finding all paperwork, do not panic. Our legal team will be able to gather necessary information through litigation. Types of paperwork that can help support your lemon law claim include:
Your vehicle's manual;
Sales brochures;
Copies of your purchase or lease paperwork, including the warranty; and
Service records from the manufacturer or mechanic showing what repairs were attempted and dates.
California's lemon law requires an automaker to pay for a vehicle owner or leaser's attorney's fees, costs, and expenses ⏤if their case succeeds.
California's lemon law protects vehicle owners when their newly purchased or leased vehicle has a dangerous or persistent defect. Lemon car owners may seek a replacement vehicle, a refund, and other compensation for their losses.
Wirtz Law has successfully obtained recoveries for our clients in excess of $45 million.
$632,141.03
Our client, the plaintiff, purchased a brand new 2014 Focus for $40,007, including add-ons and financing. Within three days, the transmission began to slip and…
Los Angeles Lemon Law Frequently Asked Questions
From the moment I contacted them, Jessica was responsive, informative, and made us feel heard. They were able to navigate the complicated legal process with ease and fought for our rights as a consumer. Ultimately, their diligence and expertise…
‐ Jack D-L-T.
Contact an Experienced Los Angeles Lemon Law Attorney To Discuss Next Steps
If you are looking for a California Lemon Law firm, look no further than Wirtz Law APC. If you are fed up, have had enough, and think your car is a lemon, call us at (858) 879-3557 for a free no obligation evaluation. If your vehicle is a lemon, we will take your case at no charge to you on a contingency fee basis. Wirtz Law APC provides one of the best Lemon Law attorney services everywhere in California, including Southern California, Northern California, Central California, and Eastern California.